I was always a huge fan of the Max Payne franchise. The first two games were beautifully made, and I played them several times in ye olden days. Now, Max Payne 3 came out some time ago, and I never found the time to pick it up until now when it was on a Steam sale for whooping 7,50€, so no real harm to be done. I hoped for a littlebit more of Max' poetry along the way of bullet-time fights, but the actual game is such a stinking pile of shit that I get angry just to write about it. So, forgive me if this turns into a rant, but Max Payne 3 really sucks ass.
It also sucks his skinhead, I guess.
That's surprising at first, because the production value seems quite high in the beginning. They got nice enough voice actors, there's a ton of cutscenes driving what passes as the story of the flic, and there's the obvious running and shooting that looks well enough. But the gameplay is so broken, I can't begin to describe it. Leaving beside my inability to do so, let's try an approximation.
CUTSCENE! Look at the bullet!
At first, what freaking moron thought that introducing a cover-system into MAX PAYNE was a good idea? Guys, the asthetic of the game has always been Matrix. That means, jumping and running around in slow-motion and filling bad guys with holes. It's not crouching behind rubble and shooting at bad guys crouching behind rubble, because that's Gears of War. It totally defeats the purpose. I can't even jump in slow-mo from cover to cover, because neither controls nor level-design allow for that. Was this intended to introduce some "realism" into the game? If yes, you failed spectacularily.
Cover, cover, cover...
Next gameplay-breaker: the cutscenes. There's a ton of them, and almost all of them are not only superflous, but an actual nuisance. And I'm not talking about story; that's something I'll cover soon enough. No, the game thinks cutscenes are the medium of choice to keep me from playing, because that's precisely what I want in a game - not being able to play. I run down a corridor in the one moment, and in the other, I see a cutscene in which Max gets some info over his headset. Because, well, I could miss it when the game wouldn't take a break, I guess?
CUTSCENE! Look at the bullet!
The same is true for doors. Several times I wanted to bullet-jump through a door, Max starts to jump towards it, I'm interrupted for a fucking cutscene in which Max opens the door and then I stand in the next room, facing bad guys with no bullet time left instead of slow-motioning (is this even a word?) in the room and putting bullets in their surprised faces. No surprise, though, because the cutscene interrupted me and now they're all in the cover I hate so much (see a pattern there?).
CUTSCENE! Look at the headshot!
This wouldn't be half as annoying if it wasn't so superflous. Practically all the information you get in these cutscenes - like Passos screaming in your mic that there are enemies ahead or to show that, yeah, there's another room on the other side of the door you just stepped through - could be delivered in the game without interrupting the actual gameplay. But like this, I'm sometimes allowed to play for a littlebit, and then the game grabs the controls again telling me "haha, no, you're not trustworthy" and shoves my face into the next bit of information.
CUTSCENE! We rotate the screen so you can see him die.
And then there's the kill-cam. All the coolness they took out of the fighting by constantly breaking it up with cover and cutscenes was to be made good by the killcam, allowing you to watch your bullet kill either the final enemy or the one you just killed with your last drop of health. The latter introduction is actually a nice idea: when you're near dying in a firefight, the game slows down really hard and allows you to try and get the guy before he gets you. If you manage to do so, you survive the encounter, and the game shows the bullet that kills him and how he falls to the floor - in a cutscene. And then, you find yourself most likely in a very awkward position and get shot because the cutscene interrupted your move.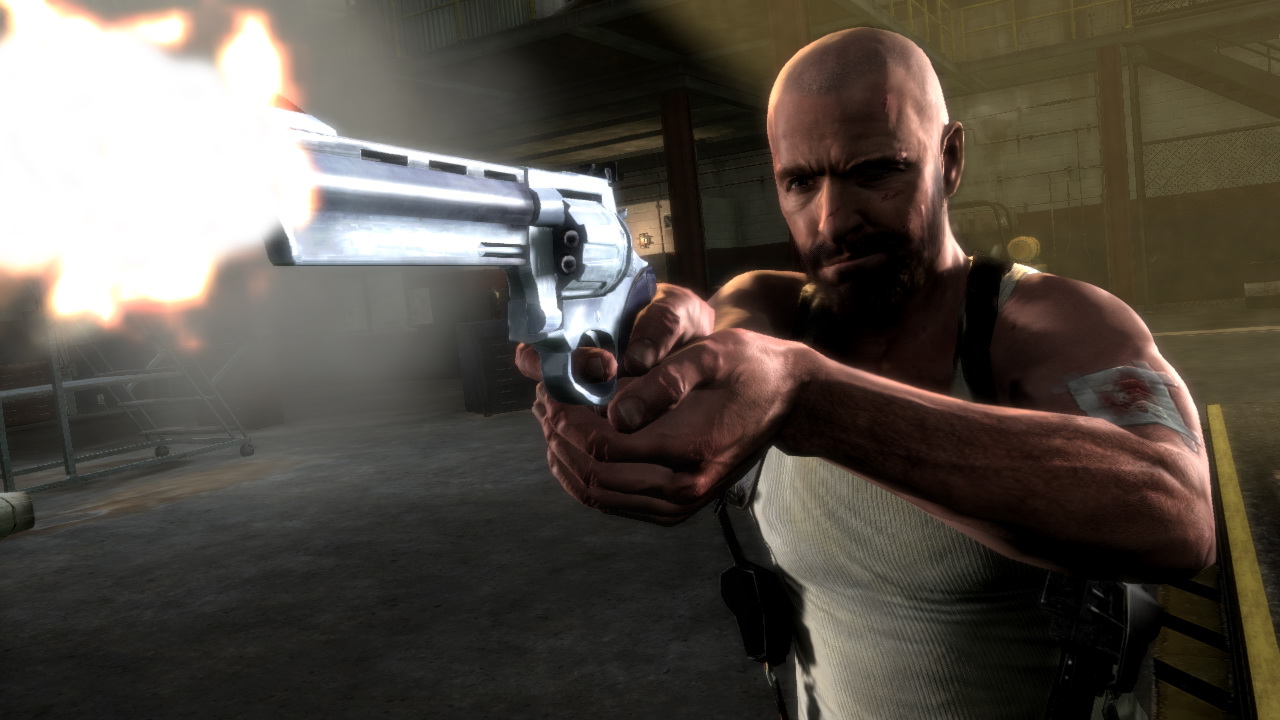 CUTSCENE! Look at the gun!
The last thing is the story. I can't really judge it because I stopped playing pretty fast because of the nuisances described above. You're in Sao Paolo, which I find an interesting idea, and you're a pretty bad body-guard, which is also nice. All this seems to work pretty well, and they're building up the favelas as kind of a no-man's-land, so I guess you'll go there quick enough. But someone thought it would be great to omit the comics that were so iconic for Max Payne and to introduce cutscenes instead, which isn't that bad once you get used to it, but someone also felt pretty artistic about the cutscenes and let's them shift and blur all the time, giving me heachaches.
So, sorry Max Payne 3, I hardly knew ya. But what I knew of you doesn't make me want to see the rest of you, so rest in peace in the Steam library. I'm going to mourn my 7,50€, if you'll excuse me.