A few days ago, I received an email with a very interesting question:
I believe at one point in A Game of Thrones someone remarks that revenue has increased ten-fold under Baelish's stewardship, but no explanation is offered as to how. I have some of my own ideas of how Baelish accomplished these feats, but none seem adequate to explain his level of success. I'd be interested in hearing your thoughts on this, either in reply or on any one of your platforms.
Well, I can give a very short version of my answer: he didn't. The tenfold increase is a myth. The long version comes after the break.
Slick bastard.

The background of the story is the following: after being sent back to the Vale for his dumbass duel with Brandon Stark, Littlefinger dwelt on the Fingers and mourned his mistakes, until Lysa Arryn finally arrived at the Eyrie, being the new wife of Jon Arryn. She hadn't forgotten the man who deflowered her and provided him with a low-level job: being responsible of the customs in Gulltown. In charge of said customs, he increased the revenue of the city (read: the Arryns) drastically. So, even Jon Arryn had to see his value and took him to King's Landing upon taking the handship, where he was in charge of, you guess it, the money business, becoming Master of Coins, which doesn't seem to be a job that the nobility usually deems honorable.
That's Honorable, with a capital h!
So, later we learn that in his time as Robert's Master of Coins, Littlefinger increased the income of the crown tenfold - and its expenses on the same amount. Simultaneously, we learn that Robert's years weren't one of economic hardship for the commons, so a tenfold increase in taxes can be ruled out. So, how did Littlefinger accomplish this feat? At some point it is remarked that he didn't simply put the new revenue into the vault and locked it away, but that he invested the incoming money into businesses, such as whorehouses and stuff. He also bought commodities and sold them, from bread to cloth to anything else that is traded. He also put his own people in key positions to economically dominate the city.
Talking to his Master of Whores.
But none of that attributes to a tenfold increase in revenue, nor to a tenfold increase in expenses. Yeah, Robert likes his tourneys, but even that cannot attribute to ten times the budget that Aerys had. It's a convenient excuse. Even if it did, the expenses actually increased more than tenfold. Else the realm wouldn't be six million in debt. So let's have a look at Littlefinger's motives, shall we? The guy is a lowborn noble from a shit holdfast. Therefore, he has neither the name nor the honor, and his fighting prowess is neglectable. Knowing that, the only way to get a power base is money. Littlefinger obviously knows how to get it, and in Gulltown he used this to great effect. My guess is that he just didn't cheat Jon Arryn that much like the other custom officers did.
Being totally honest to you, bro!
Of course, he did this not because he was such an honest and good guy, but because he wanted to earn his trust and make a name as a magician of money. I guess he wasn't exactly popular with the merchants of Gulltown. To understand how this works, you need a little introduction in the idea of tax farming. In ye olden times, the governments didn't rely on an extensive bureaucracy to run stuff. Instead, they turned to local rulers, governors and the like. Lacking a bureaucracy, collecting taxes is a different beast than decreeing them. If the crown was to, say, take a tenth of your earnings - who excactly knows what your earnings are, and that you even live there? The crown of course doesn't. Remember that it also outsources the need to levy troops: in the feudal system, the next lower level of the noble pyramid has to raise the men.
Take this land, and get me some troops!
Now, for money, the crown simply sells an office called the "tax farmer". He is assigned to a certain area (for example, King's Landing) and to a goal, say, 50.000 dragons. The tax farmer is obliged to bring in that sum of "taxes". For this, he is given the authority of the government, monarch or whatever (in our case, king Robert). With this authority, on he goes to collect the money by any means necessary. Now, in order to make a profit, he needs to get more than the king asked, because there is no salary. Since the king doesn't know shit about his own subjects and doesn't want to strangle his economy, he usually sets the bar pretty low. For the tax farmers, this was a huge incentive to press the people in their district as hefty as they could. So, tax farmers got ridiculously rich.
You can see in this picture how popular the guys must have been.




Now, you need to imagine Littlefinger as the chief tax farmer. He appoints all the other tax farmers, and of course, being the nice guy that he is, demands a big cut as well. To come back to our initial example, Robert would demand 50.000 dragons of King's Landing, Littlefinger would demand an additional 50.000, and the tax farmer wants 50.000 for himself, so the people of the city need to pay 150.000 dragons in total. But what has all this to do with the revenue of the realm? Nothing, on the surface. It explains just that Littlefinger himself is very rich, and how he could theoretically boost income.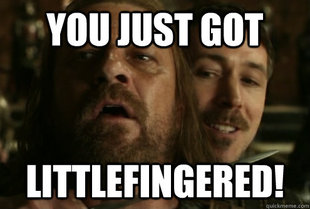 Oh certainly you were.
Tyrion, upon taking the office himself, totally fails to make any sense of Littlefinger's books, but he gets the bad feeling that he was up to no good. In a world where double accounting isn't invented yet and almost everyone doesn't understand economics beyond a very basic level, this shouldn't surprise us. Tyrion struggles greatly at getting money just to repair the gates, and there are no tourneys or extravagant celebrations any more since Margaery's wedding. So shouldn't the revenue be real high? Yet it isn't. And, I stress this point again, Littlefinger's books are a mess and don't explain anything. They seem to obscure more. And of course, that's exactly the point. Littlefinger used the realm basically as a machine to enrich himself, investing the money, allright - in his own ventures. In his books, he put it like it would all benefit the crown and at the same time exaggerated expenses while financing the real expenses by borrowing. It's a ponzi scheme, basically.

You wouldn't believe this, Lord Stark, but you inherited a fortune of a South African Prince!
So, neither the tenfold increase nor the tenfold expense increase really exists. Littlefinger just diverted the royal incomes into his own coffers and maintained the level of Robert's spending by borrowing heavily from the Lannisters, the Faith and the Iron Bank of Braavos, essentially making the Iron Throne too big to fail. The money that he gains is used for direct political gain, e.g. in bribing Janos Slynt or buying the Kettleblacks.
There is of course another possibility: it may be that Littlefinger really cracked down on corruption and managed to get the revenues that high and that he uses the crown for all his political bids (Slynt et al). In that case, the numbers would make more sense, but it seems rather shortsighted of Littlefinger: his ultimate goal is leaving King's Landing as a high lord to marry Lysa Arryn, so he leaves behind all his financial power as well if it's tied more directly to the office of Master of Coin. It also leaves the question why Littlefinger's tax farmers haven't reported to Tyrion and hammered new deals for themselves. I firmly believe that Baelish redirected the revenues into his own coffers, since it makes more sense as a political move.