Warning: Contains mild spoilers about Battlestar Galactica.
There are quite many Fantasy and Science-Ficion-settings that claim to show a world that has moved beyond the discrimination of the female gender. Especially role-playing games often do this; sometimes it's regarded as especially progressive to turn the table and simply mirror role models, which usually makes for a shortcut into the uncanny valley. I know only one show and setting that ever convinced me with its vision of an egalitarian world. This show is, you might have guessed, Battlestar Galactica. This may sound a bit strange because the show surely is no stranger to show boobs and slender female bodies in order to appeal to a certain audience, but there are several elements in it that contrast the show from other comparable settings. Or better, there are certain things lacking in BSG that can be found on other shows.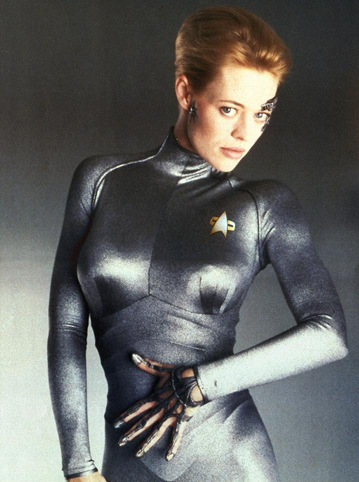 May I present the kind of character they chose not to introduce.
Before I go deeper into the matter of why exactly it is that Battlestar Galactica succeeds where so many other franchises fail let me explain to you where I was first introduced to the whole thematic. You see, as many of my fellow nerds out there, I used to be a Pen&Paper roleplayer until I got an arrow in the knee and real life sucked all the time from my schedule, leaving me to write about the glory days of old. Chances are you don`t know the Fantasy system I played since it`s
a German one and never succeeded anywhere else
(but managed to be bigger than D&D here in Germany anyway), so suffice to outline one basic trait of its world: in most of the countries on the continent in question, men and women were equal. There was one arabic-like society where they weren't, one where they just mirrored usual medieval gender roles (women as soldiers, men as housekeepers) and one viking civilization that kept the role models but exchanged them freely between men and women, according to individual taste.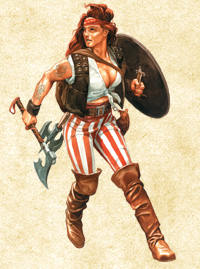 Women viking character, actual artwork from the RPG
The problem with that vision was that it never worked. I was never able to actually believe it, which is why we never adapted that particular piece of background. There was a game rationale behind this, too, since it's simply uninteresting to play another gender if there is virtually no difference between them, which is another reason why I'm so hooked by the brutal description of such differences in "A Song of Ice and Fire". So, this is as wrong as it gets when it comes to gender relations in a fantastic setting, be it a Fantasy world or a Science-Fiction-story. What is it that Battlestar Galactica does right?
First, it never rubs your nose into it. "Dude, looky here, totally equal, we are so good!" When I first watched it, I assumed it simply was that and chose to ignore it, but as the series progressed, I more and more found that it wasn't like that. This is because, second, they don't ignore the difference between the sexes. I'm not talking about the usual "women can't drive and men aren't emotional" crap, but biological stuff that even the most hardcore feminists don't deny: women get pregnant, men don't. And it is here that BSG delivers better than any other setting I've seen before.
Of course, being pregnant with guns scores more points than without them.
I can't really pinpoint it to single scenes or lines of dialogue, but especially in the relationship between Sharon and Helo, when they take turns in their shifts on Galactica and nursing their daughter Hera, there never is one shade of doubt that both are equal on terms of individual fulfillment. Of course, you might object, they don't have much choice, being at war and all, but the series is not very consistent at such themes and drops things like it when they stand in the way. In their relationship, Helo and Sharon really are the paragons of a world that just moved beyond the fight between genders. You can't imagine them as the product of affirmative action quotas or political choiced like "we really need more female pilots". It's simply what they chose to do, and they did (as a side-note, "Caprica" interestingly enough chose a much more traditional, patriarchal approach).
In other cases, we have a slight reversement of gender roles, best shown in Starbuck and Anders, but that never continues to pointlessness. Anders is, despite his appearance, more of a softie, and Starbuck is, well, Starbuck. Nonetheless, they both stay believable as members of their actual sex. Again, I can't really tell you why this is, and at this point I feel you're either going with me or decide that I`m full of shit, but hear me out. The last example are Apollo and Dee, who seem to have a relationship that would count as progressive in our contemporary world but is fairly dominated by the man, Lee Adama.
So, whenever I try to imagine a world that is post-gender and really doesn't care about these battles anymore, a world that is done talking about either "emancipation" as a way of demanding privileges ore of "family values" as a way of basically telling women to shut up and get into the kitchen, I think of Battlestar Galactica. This seems to be a society where people can really decide what they want to be and no one tells them that either it's not their thing to do or that it is really, really very progressive and laudable of them. I think when we reached that point, a point where no one even thinks about judging your value by your sex but simply looks at your record and decide on that basis, then we finally did it. I don't expect this to happen in my lifetime. But then, that's what Science-Fiction is for, isn't it?