Bringing feminism to a gaming console near you
I have never liked feminism. Then I watched Anita Sarkeesian. This may sound melodramatic, but in the light of the developments that loosely run under the tag of "#Gamergate" these days, melodrama is called for. I won't bore you with the details of the conflict,
for which you can turn to the trusted explainers over at vox.com
. The reactions from the community of people calling themselves "gamers" has been so much out of proportion that "melodrama" isn't beginning to cover it. When people are forced to ask the police for protection and flee their homes, you know that something has gone terribly wrong. The hatred that Sarkeesian, Quinn and others are receiving bars no relation to the quote on quote "provocation" they are posing to the gamer community at large. I guess I'm too old to ever have named myself a "gamer" (the term didn't exist in my really active days), but I certainly would've. Now, I can only try to make a firm stand, rebuking the stupid attitudes of my teenage years and agree with the many who came before me in renouncing the term.
But what is Sarkeesian's crime, exactly (I can't add anything to the Quinn-controversy for lack of knowledge)? The critique hurled at her is agitating, pursuing her own agenda, being a cash-grab, forging evidence, only presenting one side of the issue, not being a real gamer, polarizing, using (sometimes manufactured) extreme examples to generalize and to split the community. But I argue that in truth, much of this is just at the forefront, a facade, erected unconsciously to obfuscate the true problems that are running deep below in the community and which make this discussion so vitriolic and, in Sarkeesian's case, even threatening her life.
Guess she has more supporters than anticipated.
Let's just dismiss the most obvious of the allegations. Is she a money-grab? The Kickstarter she started asked for 6000$, she got way more. Some are arguing that she's keeping the money. I don't know, and simply, I don't care. The money's hers, and as long as the product she promised for it is good and forthcoming, she can buy her own yacht for all I care. So far, it is. Is she agitating for her own agenda, advancing feministic goals? Of course she is, and it's not like she would make a big secret of it. Heck, her Youtube channel and blog sport the title "Feminist Frequency". That's perfectly legitimate, and if someone wants to start a Youtube channel "Masculist Frequency", they're perfectly in their rights to do so. I just sincerely doubt they will reach the clarity of argument Sarkeesian is reaching. Doesn't she present tropes against men? No she doesn't, because her video series is about tropes vs. women. Obviously, not everything is sunny in male gender models, and I hope she will take them on as well. But please, one thing at a time. Isn't she a real gamer? I don't even know how someone can be so delusional and entrenched in his bubble that he would honestly think someone would make well-researched videos arguing for better games while simultaneously hating the medium. That's bordering schizophrenia.
So, are some of the examples she uses to illustrate her points - like the infamous killing of the strippers and dragging their bodies around in "Hitman" - not representing the core gameplay experience of the game? Well, yes. I never played "Hitman", by the way. So why do I know this? Because Sarkeesian says so herself. In the video. Which, of course, you have to watch and understand in order to know. In the same vein, "forging evidence" doesn't really factor in, because Sarkeesian admits herself that the open-world-games she draws these examples from aren't explicitly demanding the action of you.
Thunderf00t
Now, what I don't understand about the whole discussion is just why so many people are totally angry about Sarkeesian, but in turn don't even bother to learn the arguments she's making. There are videos out there dissecting Sarkeesian that don't even get her most basic arguments,
like Thunderf00t's infamous one
(which is in turn dissected at length
here
, in case you're interested). So let me spell it out for those of you who want to be angry without watching or understanding her videos:
Anita Sarkeesian does not want to take your toys. She doesn't demand a purge in video games or that no other shooter will ever be released. She isn't opposed to violence in games on principle, not even on violence on women. She is opposed to violence on women in a sexist framing.
This is what people like Thunderf00t and, sadly, some of my own friends, simply aren't able to understand. What Sarkeesian is criticizing is topmost the lack of agency for women. In these games, they are objects. They are goals to be achieved, consumables to be used, or entertaintment to be had. What they are not is characters. Instead, the center of attention is firmly on a dominant male that is out to rescue them (or in some cases, partake in the exploitation). This is what makes Thunderf00t's video so incredibly dumb, because it's the part he doesn't get. The problem is that women are constantly needing rescue and not able to fend for themselves, like in the subplot of "Watch_Dogs", where the player has to bust a sex-slave-worker-ring. It's not sexist that the hero stands up against sexual enslavement of women. It's sexist (and, furthermore, deeply chauvinistic) that we need a male to rescue the day by using violence. And not getting this part is not getting the critique.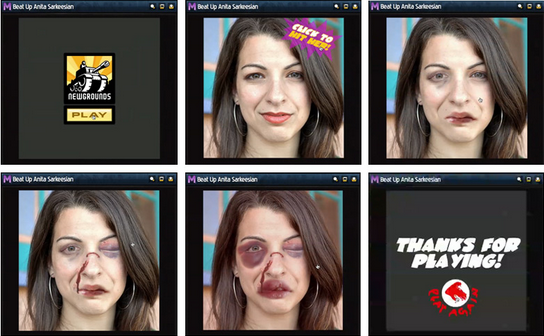 The sad state of gamer's controversy skills
Instead, gamers (and I use the term pejoratively here) are instead projecting a version of what they think Sarkeesian said on her. She makes an easy target, one has to say. Not only is she female and therefore automatically a fish-out-of-the-water in the gamer world, she's also attacking their favorite playthings and ripping away a curtain of self-indulgence that the gaming world has far too long hid behind. I guess the awareness of this is why on the Gamer's Developer Conference in 2014, not only Sarkeesian but many other women as well were put firmly into the foreground in a conscious display of furthering the agenda that so many of her critics complain of.
The gamer community is deeply misogynistic. It has always been, which is why nobody took special note until people like Anita Sarkeesian showed up. Being told that you had it all wrong and are, in fact, not the opressed nerdy underdog but the perpetrator, is shattering a world view, and no one takes kindly to this. If I was younger, I would most likely not be here defending Sarkeesian but also quoting instances of where she's distorting a game in question and desperately trying to make straw arguments of just why the abuse of women in a game in question is an integral part of the storyline.
Not Sarkeesian
But Sarkeesian doesn't allow you to retreat to these well-estalished defense lines, and that's why she's so much more potent a threat to the gamer community than the previous attacks it suffered. She's a gamer herself, which makes it harder just do dismiss like the previous critics who tried to link games to mass shootings and similar absurdities. As games are becoming an older medium (unfortunately, Sarkeesian manages to show that they're not necessarily a matured medium), this was only a question of time.
This means that the schism of the gaming world is nothing to lament. If the gamer community is unable and unwilling to change, the only possible course is for as many people as possible to disown them, denounce them and demand better games for ourselves, because we should by rights represent the bigger market share. I mean, 50% of humanity are already on board. Let the gamers have their Hitmans, Call of Duties and whatever. Give us games that challenge us, that tell meaningful narratives and that manage to create characters I care about without relying on harmful tropes. If only one major publisher will change its ways, this victory should be celebrated, and Sarkeesian, who rightfully earned the trophy of Ambassador from the Game Developers Conference, will have a big part in this victory for the hearts and mind of all people out there playing video games. She certainly won mine.